We've learned how it's done, now we're going to help you, too!
Based on our own experience from B2C activities intended for our target customers, we are a very strong and reliable B2B partner. We will help you with taking off your business on foreign markets we already operate in and have working practices in place.
We will help you with entering these markets:

SLOVAKIA
We have been active on the Slovakian market for a number of years with all our B2C concepts – Magnet3Pagen, Blancheporte, Modino, výprodej-slevy and other concepts of our partners. We can offer maximal synergy, just like on the Czech market.

BELGIUM
We secure for Blancheporte and its Belgian market package packing including transport and handover of these packages to Belgian carrier companies. At the same time, we process returns of Belgian customers for them. We can help you with western markets as well.

POLAND
In 2017, we successfully entered the Polish market with our catalogue concept called MAGNET DOM & MODA (household goods) and managed to acquire and expand the customer portfolio and to create a high-quality website. In late 2018, the name of the concept was changed to ASTOREO. All processes in this country are set up, tested and ready to be provided to you and your business!

HUNGARY
We are currently operating on the Hungarian market with our new ASTOREO concept offering a wide range of products, mainly household goods and women's fashion. We entered the marked already in 2018 under a different name. We will be happy to provide our well set-up and proven processes to you as well.

ROMANIA
In 2018, we successfully entered the Romanian market with our new ASTOREO concept offering a wide range of products, mainly household goods and women's fashion. In this county, we have functionally introduced all B2C activity processes and are ready to provide them also to you.
Atlas for Men - Slovakian and Hungarian market entry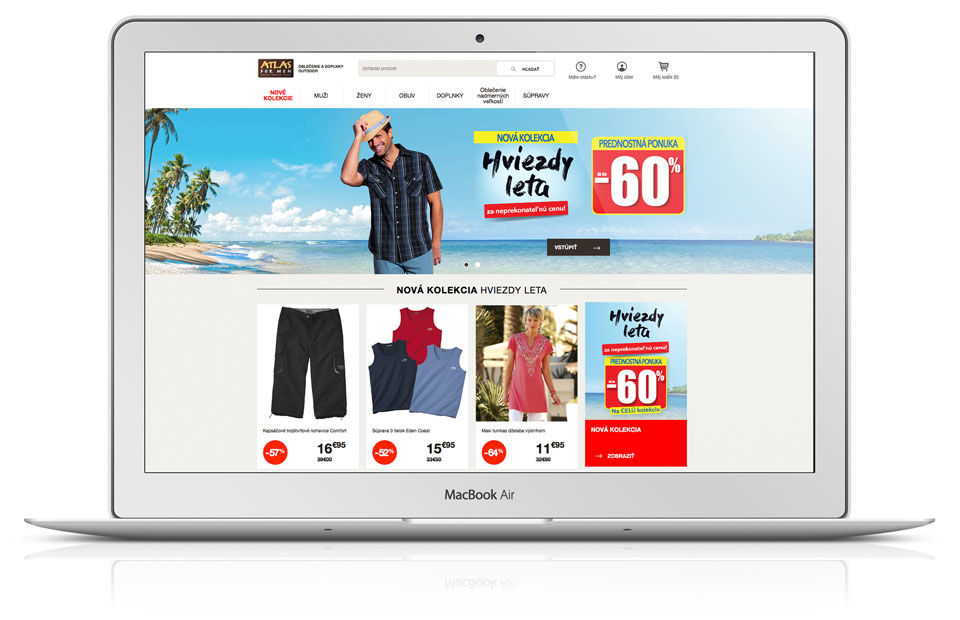 "In September 2017 we have been approached by our strong business partner, French shipping company Atlas for men which we secure outsourcing services within The Czech Republic for, with an inquiry of possibility of helping them with their entry of Slovakian market and conducting the same services for them like on the Czech market. Atlas for Men company was looking for an experienced partner that could offer a lot of stability with processes in place on the Slovenian market. The requirement included securing Slovenian-speaking operators to our call center, handling incoming calls, entering orders into IT AFM system, making calls, receiving and processing orders in a written form, processing e-mails or letters from customers, handling extraordinary situations, processing customer returns and daily reporting."
"With regards to the trouble-free and mutually satisfying co-operation on the Czech market, we have quickly managed to reach an agreement concerning conditions of co-operation on the Slovakian market, which was followed by a successful entry of Slovakian market in January 2018. We have taken advantage of already implemented and functioning processes of our B2C concepts, which have been set up on the Slovakian market and the same has been done for our partner. We have secured very beneficial filing with the post operator, distribution of catalogues and other business communications with equally favourable conditions. We have, too, secured efficient transport of written orders, letters and returns from Slovakian customers to the company headquarters, where they are processed (thanks to regular transports CZE Pardubice – SR Bratislava – CZE Pardubice, this happens on a daily basis, in order to satisfy every need a customer may have). Delivery of written orders, letters and returns are subsequently processed in our company in compliance with deadlines set by the contract."     In 2020, Atlas for Men company also entered       the Hungarian market with our help.
We have been working with PackWay s.r.o. for almost a year now. We know that our customers are taken care of well, which is one of the reasons why our entry onto the Czech market has been very successful.
PackWay s.r.o. has been providing customer services for us in the Czech Republic since November 2015, and thanks to its professional approach, our customers are more than satisfied.